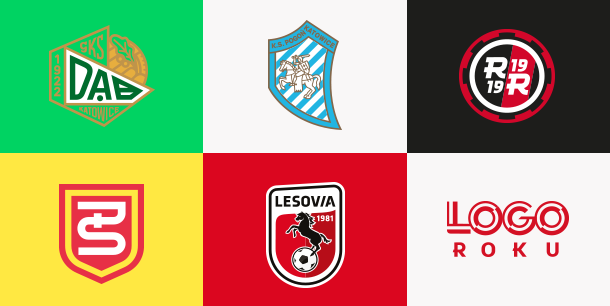 Czy polskie emblematy sportowe są rozpoznawalne na Zachodzie? Poznajcie opinię twórcy pionierskiego serwisu High Quality Football Logos, Duńczyka Antoniego Mysony, który wprowadził mnie w świat wektorowych znaków piłkarskich kilkanaście lat temu.

Nie rozmawialiśmy od 10 lat. Obaj porzuciliśmy rysowanie znaków piłkarskich z podobnych powodów, obydwaj rozpoczęliśmy pracę w branży IT – Antoni w Kopenhadze, ja w Krakowie. Jednak teraz, gdy zastanawiałem się nad zaproszeniem ekspertów do konkursu "Logo Roku", zapragnąłem poznać opinię twórcy strony – niestety obecnie nieaktywnej – High Quality Football Logos.
We haven't talked for 10 years. We both left the football logos for similar reasons, we both started work in the IT industry – Antoni in Copenhagen, I did in Cracow. But now, when I've been thinking of inviting experts to the "Logo of the Year" contest, I wanted to hear the opinion of the man who created the site – unfortunately currently inactive – Hiqh Quality Football Logos.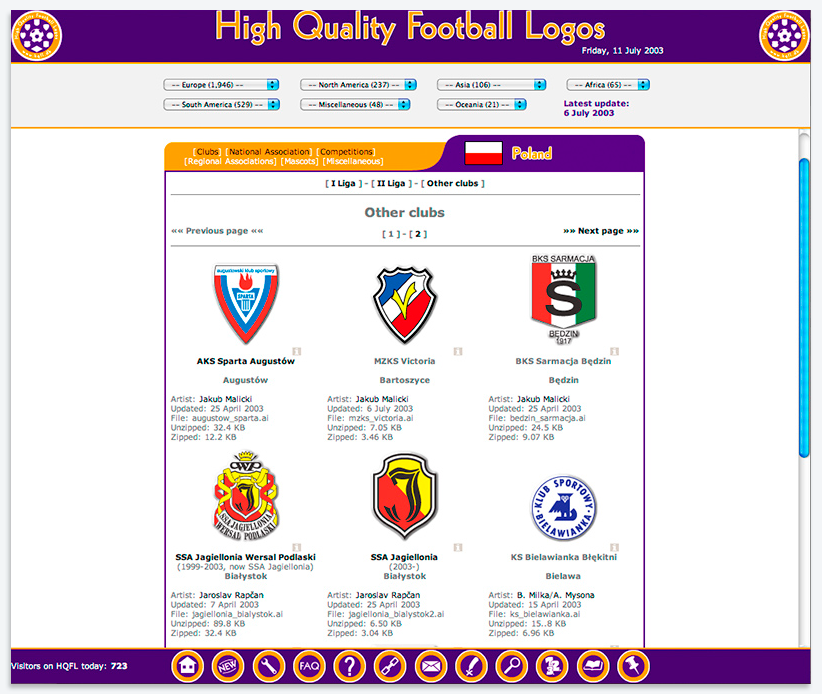 Jeśli zaczynaliście serfować po sieci w pierwszych latach XXI wieku i szukaliście tam herbów sportowych, na pewno trafiliście na stronę HQFL.dk. To była zjawiskowa, wizjonerska strona, na której kilkudziesięciu ludzi z całego świata publikowało narysowane przez siebie wektorowe herby klubów piłkarskich.
If you had started surfing the net in the first years of the 21st century and you were looking for sports crests there, probably you visited HQFL.dk. It was a phenomenal, visionary site, where passionates from all over the world published the football logos drawn by themselves.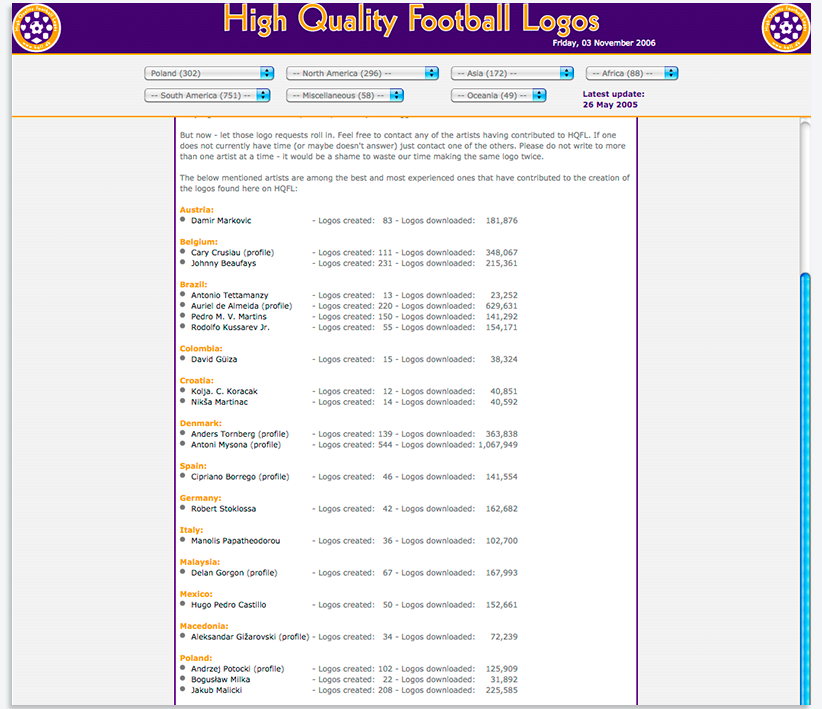 Ponieważ sekcja polska nie była w 2003 r. specjalnie rozwinięta na stronie, postanowiłem nawiązać kontakt z autorami serwisu i pokazać światu znaki mniej znanych drużyn z naszego kraju. Był to czas gdy dopiero uczyłem się grafiki wektorowej, pracowałem wówczas w programach Macromedia FreeHand i Corel Draw, a znaki na HQFL publikowane były w plikach Ilustratora. Niestety wówczas automatyczna konwersja plików (eksport do .ai) generowała sporo błędów i musieliśmy wypracować metodę przygotowania plików. Dzięki cierpliwości zagranicznych współpracowników, przede wszystkim Antoniego Mysony, udało nam się rozbudować bazę polskich herbów sportowych do ponad 300! Kosztowało mnie to dużo pracy i czasu, zwłaszcza że brałem także najbardziej skomplikowane wzory klubów np. hiszpańskich – ale poznałem wówczas tajniki grafiki wektorowej, których jeszcze nie uczono w żadnej szkole. Dzięki ówczesnym radom bardziej doświadczonych kolegów, nie miałem nigdy potem problemów z żadnym ze znaków, które zaprojektowałem. Słowem, dzięki Antoniemu Mysonie moja pasja zyskała wymiar profesjonalny.
Since the Polish section wasn't enough developed in 2003, I decided to contact the authors of the site and show the world the Polish logos belonging to teams from lower leagues. It was the time when I was learning vector graphics, I was working in Macromedia FreeHand and Corel Draw then, but HQFL was sharing the Ilustrator files. Unfortunately, the automatic file conversion (export to .ai) generated a lot of bugs and we had to work out how to prepare the files. Thanks to the patience of foreign collaborators, especially Antoni Mysona, we have managed to expand the base of Polish football logos to over 300! It needed to spend a lot of time and work of mine, especially since I also took the most complicated crests of clubs like Spanish – but I got to know the secrets of vector graphics that were not taught in any school yet. With the advices of the more experienced colleagues, I never had any problems with the technical quality of logos designed by me. In short, Antoni Mysona helped me to evolve my passion into the professional nature.
Kilka dni temu poprosiłem Antoniego o opinię dotyczącą znaków w konkursie "Logo Roku" i mój mentor zgodził się napisać kilka słów o najlepszych logo! Dodam, że Antoni dostał prezentację znaków z krótkim opisem po angielsku, ale nie wspomniałem tam, które są mojego autorstwa. Poniżej znajdziecie wypowiedź Antoniego w oryginale, jestem pewien, że tłumaczenie nie sprawi Wam problemów.
A few days ago I asked Antoni for an opinion about the logos in the "Logo of the Year" competition and my mentor agreed to write the reference about his favourite ones! I have to say, that Antoni got a presentation of the logos with a shorten description in English, but I didn't signed logos designed by me. Below you can find the Antoni's feedback in the original, I'm sure that the translation won't cause you any problem.


You have got to admire a logo, that does not fit into the traditional template of symmetry, vertical or horizontal alignments, easily readable letters and convey the same generic design ideas, but at the same time still being well balanced and with somewhat recognizable elements. A mixture of straight lines and sharp edges enabling forward movement, blended with softness, both resembling the contrasts in football between the football field and goal posts versus the players and the ball. I would like to see more of much more of those daring, abstract, expressionistic designs that stands out in the crowd and almost makes no sense, but keeps you wondering of a deeper meaning.
---
I choose this logo, because its design is keeping to tradition and yet somewhat refraining from the traditional setup. This logo design is showcasing some of the design elements, of what I have come to immediately love about several Polish football logos. The traditional complex designs are blended with new unique, spontaneous, creative and interesting designs, but still respecting a club's heritage. The concept of not following the rest of the herd and using a cliché design is essential in having an unforgettable logo and there are many in Polish football.
---

A logo design sprinkled with classical parts optimized with a modern touch. Almost reminds me of the simplistic style used by many Danish association football logos, boiled down to a few core elements, but in this case with an evident forward leaning movement dribbling its way to the future. It fits nicely with the energetic style of the subject matter. Excellent powerful usage of the repetitiveness in both the name and foundation year, that makes it uniquely recognizable.
---

No usage of a foundation year nor, at first glance, some clear typography gives the central monogram a timeless, minimalistic, masculine overall feel to it. Love the clever combination of the two characters that becomes a central asset to the overall design instead of only using typography as a headline. Having a small passive monogram and larger active version of the club's logo just adds multiple dimensions and more flexibility to the branding of the club. Love the decision made not to centralize the horse with the headlines below, adding even more movement to the emblem.
---


Intriguing seeing how you always make sure to elevate and tweak an otherwise traditional logo design, in this case leaving a distinctive personal touch in both the typography and the surrounding shield. I like how the single worded headline and the black horse are significantly prominent in the logo, how good a match they actually are to each other, leaving the observer with a strong feeling of coexistence. Knowing that you have done some proper research and included symbolism with specific references to the local community only adds to the distinctive personality of this logo.
---
Antoni Mysona
Designer and former Administrator of the site "High Quality Football Logos" (HQFL)
Przeczytaj więcej o znakach uczestników konkursu: